What is an offset account, How will this help my financial circumstances?
One of the most important decisions you need to make after you have a pre approval for your loan from your bank, is whether you should have an offset account attached to your home loan. This is one of the main points missed when borrowers are seeking out home loan advice. It's important you find the best mortgage broker or financial advisor for your needs because of this.
It can be the difference between having the right loan or making a financial commitment to a particular product and lender that is unsuitable and this can turn out to be an avoidable but costly mistake.
You are none the wiser and paying for it!
Unfortunately you won't know the difference, as a home buyer you will be paying your home loan stuck in a particular product that was sold to you by the lender you enquired with, blissfully unaware that you are wasting thousands of dollars and should be in a more suitable loan.
Do some due diligence and if all else fails, seek professional advice
Doing this due diligence is part of the home loan process, making sure that you as the borrower are getting the right home loan advice as opposed to general advice, the kind given by a friend/family member.
You need to remember that this is general advice and we would recommend that you seek the professional advice you require via reputable mortgage brokers who hold an Australian credit licence and can offer you personal advice that suits your financial circumstances.
Why is having an offset account important with a home loan?
Think of an offset account like a 'must have' savings account for your mortgage, but instead of generating you interest, it saves you interest on your home loan. 
How does an offset account work?
Everyone's financial circumstances are unique, however anyone with a home loan will tell you that reducing their interest rate, fees and getting a great deal on their home loan is high on their priority list.
However rarely will someone state that having an offset account is high on their priority list. This is mostly because allot of people do not know what an offset account is, and how it can help you reduce your interest owed on your home loan and reduce years off your loan savings you tens of thousands of dollars.
The first thing that is very important is getting the right home loan advice, for this we would advice that you seek out the services of a reputable mortgage broker from OurTop10 list.
Which lenders have Offset accounts with their home loans?
Most lenders and financial institutions offer home loans that will have an offset account attached however it is not offered if you don't ask for it.
There are allot of financial products that do not include them so we recommend that you ask the question when seeking mortgage advice or home loan advice, either directly via the lender or your mortgage broker.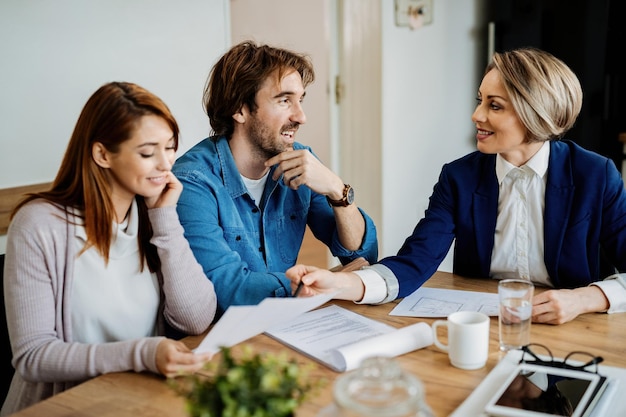 Speak to a mortgage broker for guidance and don't be afraid to question their advice
If you are speaking with mortgage brokers who are providing you with a financial solution, if their recommendations do not include an offset account, we would recommend that you ask why?
If the reason is plausible to your unique circumstances and makes sense that great! however in our experience everyone with a mortgage/ home loan should have an offset account.
It never hurts to get a second opinion when it comes to seeking out expert home loan advice. Also make sure that the person you are seeking advice from holds an Australian credit licence number. That way you know that you are getting advice from mortgage experts.
What are the different types of offset accounts that come with home loans?
100 % Offset accounts: This means that 100% of every dollar that sits in your offset account is offsetting your home loan interest fees. This is the ideal type of offset that you want for your home loan.
Partial Offset accounts: This means that a portion of the funds that are in your offset account, offsets your home loan interest fees. We would not recommend this type of offset account for your home loan, avoid it if you can.
Banks calculate your interest amount owed daily, so if you use your offset account as:
1.     An everyday account – to do your general bill and mortgage payments from OR
2.     A savings account
You can shave years off your home loan by simply keeping your savings in your offset.          
Screenshot of calculator
In this example a borrower has a 400,000 loan and by keeping 20,000 in an offset with a 5.5 % interest rate on their home loan. Interest is calculated by the lender on 380,000 (not 400,000) because of the $20,000 sitting in the offset account.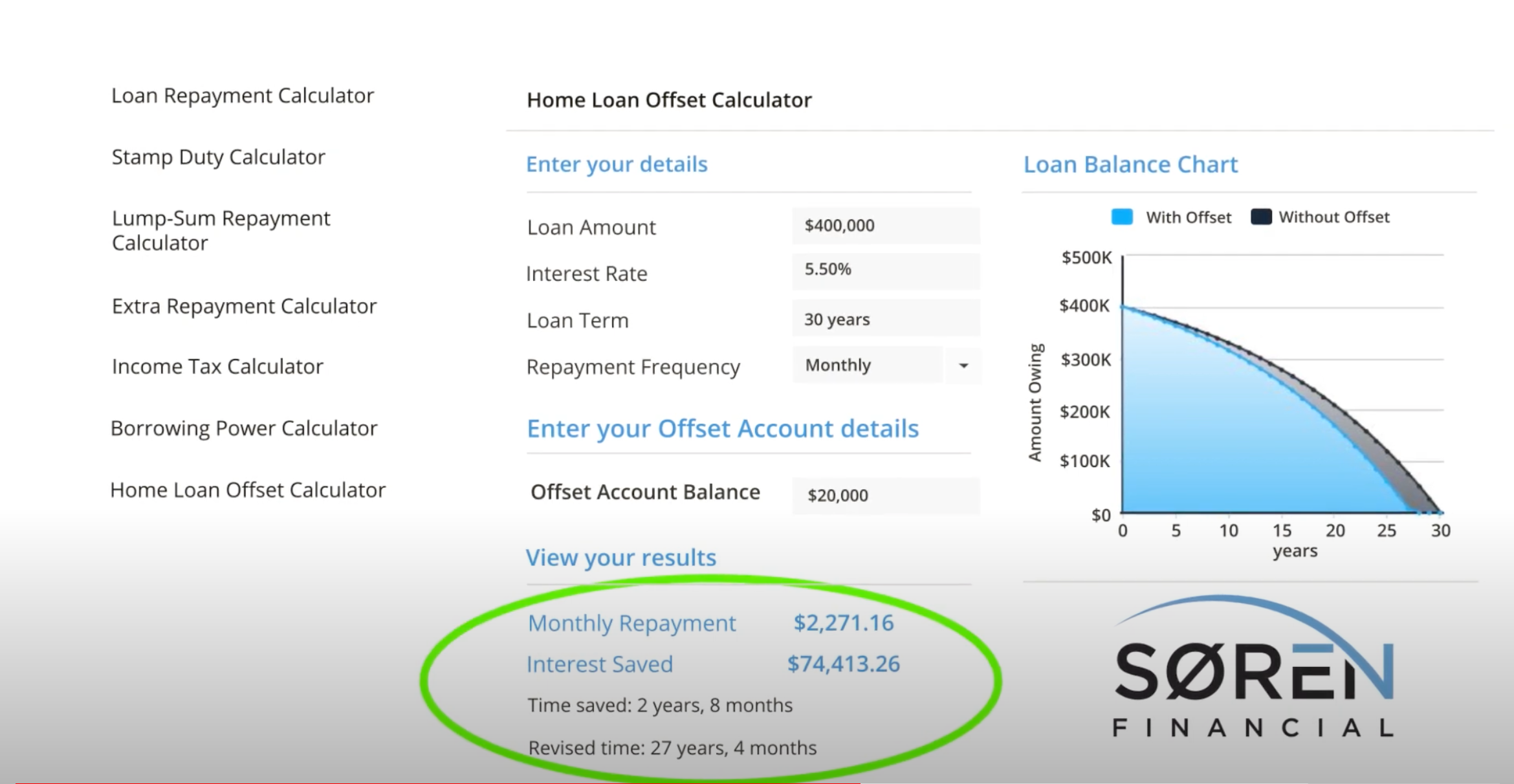 Should First home buyers have an offset account?
There is a myth that a typical first home buyer does not need an offset because they do not have significant savings after a property purchase.
This is incorrect, even if you placed your monthly pay into your home loan, this will save you tens of thousands over the life of your home loan.
What are the pros and cons of having an offset account?
PROS
The main advantage of having an offset account with your home loan / mortgage is the overall savings of interest which in some cases can be over a hundred thousand dollars.
Your ability to pay off the family home sooner than expected
Have access to money sitting in your offset account, not only reduces costs but it can be used to build up a home deposit for your next investment property purchase, (a strategy that allot of property investors use).
Your savings in your offset account can be used as a counter against inflation or rising costs of living, or increased home loan / interest rate.
This helps the borrower shave 2 years and 8 months off their loan and a massive $74,000 in interest off their home loan repayments over the loan period in this example of a borrower with a 400k loan amount.
CONS
Lenders generally charge extra for additional extras like an offset
Some lenders charge a higher interest rate for an offset
Make sure that you pick a 100% offset account. Meaning that the bank will offset the full amount of whatever is sitting in your offset account and not just a part of it. Some banks only offer partial offsets so be wary.
Conclusion
If your bank doesn't offer you an offset but they do offer redraw this is still great!. Redraw accounts are basically the same thing and performs in the same manner. The main difference is that it can time it takes to access your funds in a redraw account.
Ask your lender/ credit provider or bank for home loan advice for loan options that include an offset account prior to pre-approval stage.
We recommend that you reach out to a mortgage broker from our top 10 list to find you the right home loan to suit your financial situation. Gain expert home loan advice around the best way to structure your home loan.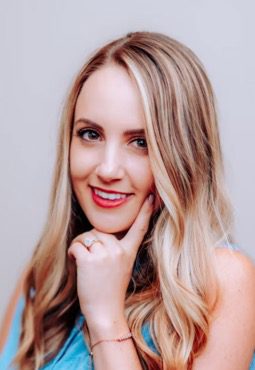 Tori is a finance blogger and researcher at OurTop10.com.au, where she enjoys helping people navigate the world of finance and money. Through her insightful articles and comprehensive research, she empowers readers with valuable knowledge on budgeting, saving, investing, and retirement planning.
Tori's approachable and empathetic style makes complex financial concepts relatable and easier to understand, She aims to foster a sense of community and leave a lasting, positive impact on her audience's financial well-being.